Lead The Followers believes in living life with passion. We're guessing that since you're here, we probably share some similar passions. We cover a range of topics including tattoos, health and fitness, music and culture. We hope that you find the content entertaining, valuable, engaging, and informative.
We love hearing from you, and invite you to stay connected through our newsletter and social channels.
Instagram @jordanfeno and @leadthefollowers
Lead The Followers is for those who aren't afraid to live and lead boldly.
Keep scrolling down this page to learn more about Lead The Followers and its' founder Jordan Feno.
Subscribe here...it's free
Lead The Followers –
The Early Days
I started Lead The Followers when I was sixteen years old, and a sophomore in high school.
I came up with the idea to start a clothing brand named Lead The Followers after making plenty of bad decisions, and when I realized it was time to figure out how to lead rather than to follow (the wrong people).
I was a sneaker head, and had been buying and selling shoes online and became pretty successful at it, which inspired me to create my own brand.
The name Lead The Followers came to me out of thin air when I was brainstorming names to call my soon-to-be clothing brand…I honestly am not sure if I would have stuck with it through all these challenging years had I not been able to create a name that could also be interpreted as this powerful, positive lifestyle.
Lead The Followers –
The Next Chapter
Fast forward six years- I've changed a lot, and Lead The Followers has evolved from selling primarily graphic apparel into an online magazine/entertainment website that also offers custom clothing and products for the tattoo enthusiasts.
The site includes valuable information on some of the subjects I'm most passionate – Realism/surrealism tattoos, health and fitness, music, and leadership.
I learned a lot during those early years- both personally and professionally and I'm stoked about this next chapter.
I realized the importance of challenging myself, getting comfortable being uncomfortable in order to grow, and learning from my countless mistakes.
I challenge and encourage you to do the same, and hope that you receive plenty of value from the Lead The Followers movement.
I am an entrepreneur, die-hard tattoo collector, music lover, and fitness obsessed twenty-something that's doing my best to leave my mark on this planet.
I rock to the beat of my own drum, have always done things unorthodox, and my overall goal is to influence as many people positively as possible.
Over the years of building my clothing brand, adding to my tattoo collection, and grinding at the gym (my therapy), I've been able to create a platform for myself via social media and have gained some influence through those channels.
Life hasn't always been easy for me, and I've struggled with a lot of frustrating and draining personal challenges that have made me question my faith, and struggle with day to day things. But, I will never stop going hard in life, and I'm going to do whatever it takes to be a light in this often times dark world.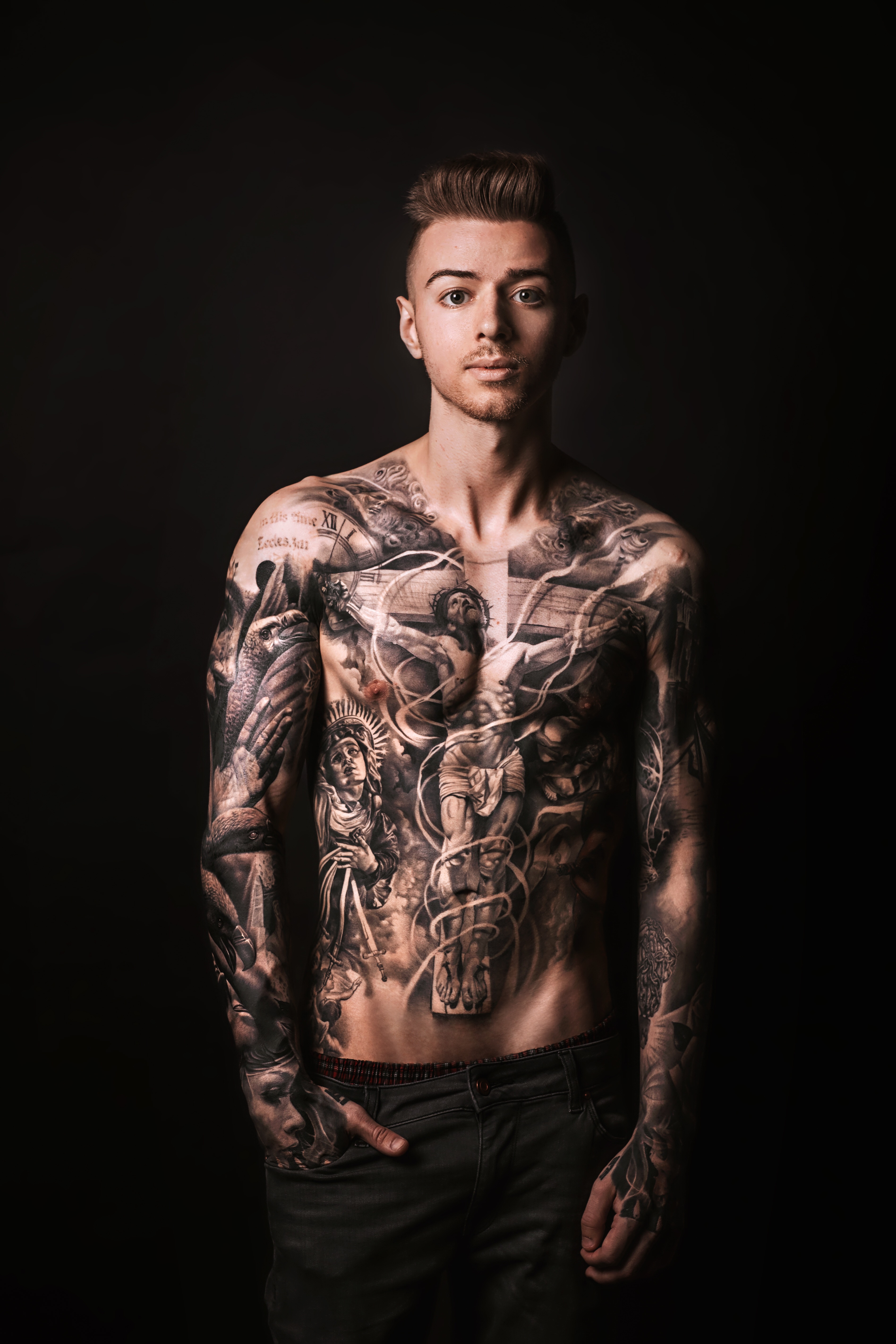 Subscribe to our newsletter to stay informed
10 Things you might not know about me…
I got my first tattoo when he was 16, and now have somewhere near 400 hours of completed work.
I run about 20-30 miles per week.
I am a die hard foodie and am thinking of my next meal before I'm done with the previous one.
Eminem, Nothing, Nowhere, Reo Cragun, Tory Lanez, and Ed Sheeran are my top 5 favorite artists.
Sushi is my favorite food, and I could eat it for breakfast/lunch/dinner a month straight and still love it.
When I find a new favorite song I will listen to it 10-20 times in a day.
I grew up an only child, but have several close friends that mean the same to me as brothers- a few of them have even lived with me for extended periods of time.
My family and I are passionate about mental health advocacy.
My journey as an entrepreneur began in middle school selling sneakers. I used to bid on kicks on Ebay from the stall of the bathroom.
I had the incredible opportunity to have a meeting with FUBU founder and Shark Tank investor Daymond John at the Empire State building in 2016.
Subscribe to our newsletter to stay informed