Interview with Tattoo Collector Cornelius Hermansen (who's received two six artist collabs)
Cornelius Hermansen is a Norwegian tattoo collector who has gotten a large amount of spotlight after collecting not one, but two of the "Rat Pack's" incredible and highly anticipated large scale collaborations. (The group often has four of six artists tattooing a person simultaneously!)
I have a high amount of respect for this dude, as you must truly love the hobby of body art collecting with all your heart and soul if you are willing to go through the extreme amount of pain that Cornelius went through to collect these two huge projects.
I got the chance to ask him some things regarding his experience with collecting these insane treasures as well as questions on some other subjects as well.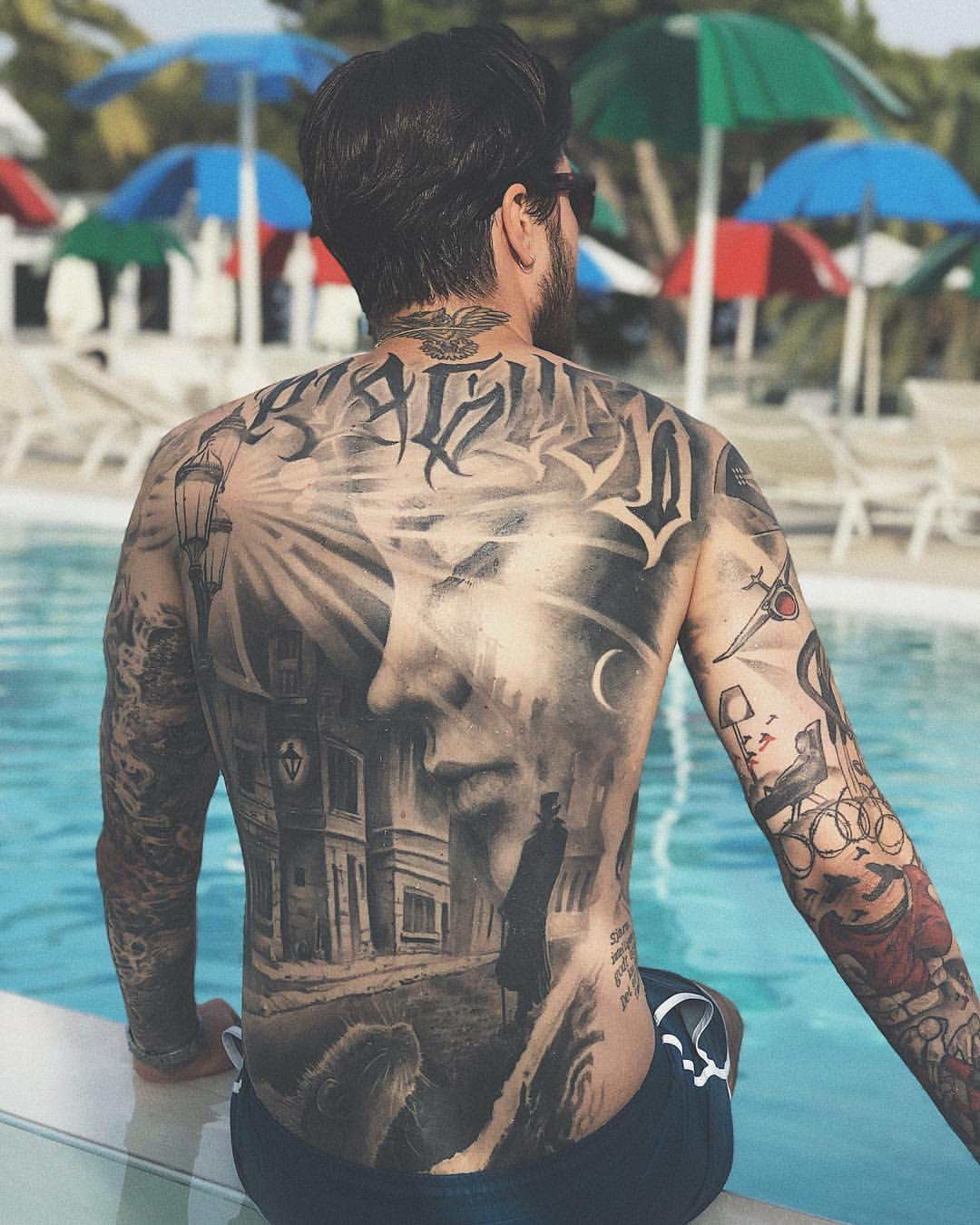 So I have followed your content and some of your journey for a little bit but can you talk a little bit about the craziness that's gone on over the past couple of years on your back and front? Describe what happened and a bit about the experience. Describe the pain level of that first session on your front to the best of your ability in as much detail as possible. Include some interesting photos if you have any.
Yeah a lot of insane stuff has been going on the last couple years when it comes to my tattoos. To start off; the story behind my backpiece was basically that the rat pack (Steve Butcher, Jak Connolly, Sam Barber, Yomico Moreno, Matt Jordan and Benjamin Laukis) went together and wanted to do something crazy.
They went into social media in search of some crazy collector willing to get whatever they decided on their back, and tattooed by all four in one session at the same time. I couldn't believe it when I saw this on my Instagram, because I'd never seen anything like that in recent years. My first thoughts were "wow, whoever receives this piece will be one lucky guy/girl." These artists were and are literally 6 out of my top 10 favourite artists on the planet. I decided to apply, but their criteria for a client was pretty high (money in da bank, pain threshold, willingness to do complete free reign, abiliity to go to the London Tattoo Convention etc.), so I really didn't think they would choose me in a million years.
I did my best to convince them that they should choose me, and one day I got an email from Jak Connolly. I remember it like it was yesterday. I had a big mouth and I didn't even have half the money I needed for the piece, so for the next month I saved everything I could before I went to London. I was starstruck when I saw them all for the first time. I knew this was gonna be a hard day, and it was. The only reason for not tapping out during the session was the thousands and thousands of people inside the convention seeing the piece being created live, and the 5 million people (I'm not kidding) watching it being done on Inked Mags facebook live stream. It was complete insanity, and I felt like I peaked in terms of pain that was possible to feel. Well, fast forward a year later.
Passing out, seizures, forgetting how to breathe, vomiting. The front torso was no joke. Anyone who's had their stomachs or chests tattooed can relate, it's no joke. People always ask me "is it six times as painful as having one artist" and the honest answer is yes, on the front torso it's hell on earth, I have never and will probably never experience pain like that again.
I did my best at the London Tattoo Convention but unfortunately we could not finish. I didn't tap, but had to take breaks every 30 minutes and so therefore we could not finish before the convention closed for the night. I was ashamed, sad, and embarrassed. I put up a photo on Instagram the same night apologizing, I was drunk from the pain and not myself. I remember Steve Butcher calling me because he saw my post, saying I had nothing to be ashamed about and that no one could handle what I'd handled that day. That made me feel better, and I instantly felt better about the situation. We went on and finished the piece a few months later in Germany at Randy Engelhards studio, we (only) did 2 artists at a time then, and finished the piece in a few hours. Still painful, but nowhere near as bad as London a few months earlier.
Both my backpiece and my front torso healed as amazing as a tattoo can possibly heal. The artists are nothing but incredible people, and I couldn't be happier with the experiences I've had with them. We have another huge project planned and I'm super excited to start that!
Since most of the Rat Pack artists are known for their colour work, it's only natural that my next big project is a full colour collaboration.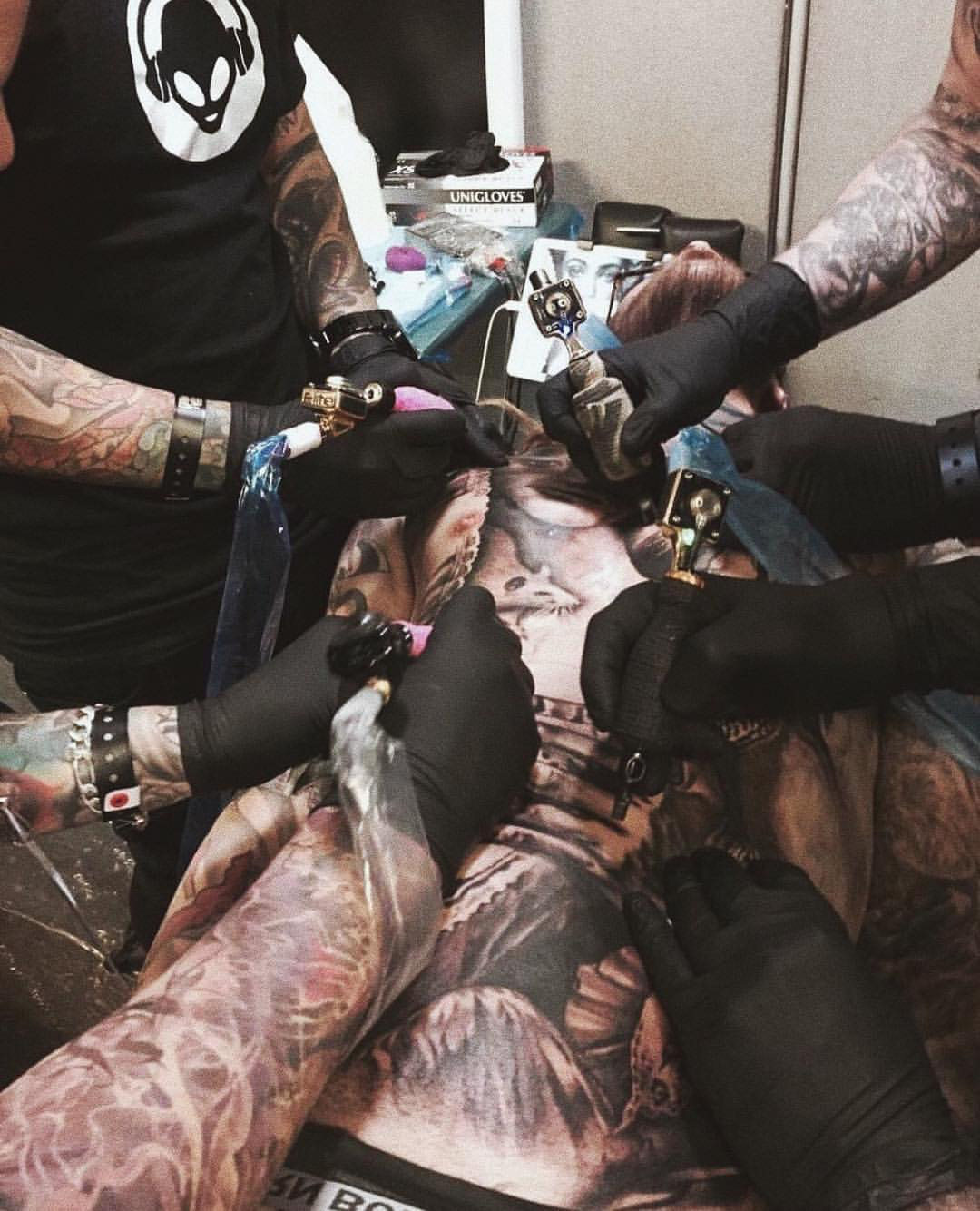 How have you handled the countless amount of internet warriors/haters that feel they're entitled to spew their unwanted and unvalued opinions?
I'm literally closing my ears and eyes, and trying to ignore all the negative opinions that are being thrown at us from time to time. I think I have literally read a million negative comments from countless of viral videos and pictures from our sessions. Sometimes it's hard to ignore, but I always have the support of my friends, family and my small following in social media.
The tattoo industry online can be a real nasty place sometimes, but it can be such an amazing platform as well, and I've met so many incredible people that share the same interests as I do.
Which artists are at the top your bucket list for adding to your bodysuit (you are planning on a bodysuit, right? What's off limits?)
Nothing is off limits I think, maybe my neck. But I do have plans to tattoo my head however, maybe that's even more of a statement than neck haha. I'm probably gonna end up with a bodysuit. Not that it's a direct goal for me to be fully covered, but you don't have to be a rocket scientist to see where this is going, I'm well on my way already.
In terms of artists I'm really happy with the Rat Pack, and most of my work will be done by them. Like I said, they are 6-7 out of my top 10 in the world so why not. Other than that it's almost an impossible task to choose the remaining artists, there are so many incredible ones to choose from, and my bucket list is constantly growing. I'll limit myself to 6 additional ones for the sake of this interview, so I have to say Matteo Pasqualin, Carlos Torres and Victor Portugal for black and gray. I'll say Dmitriy Samohin, Tymur Denysenko and Sasha O'Kharin for colour work.
Ask me tomorrow and I'll say different names haha.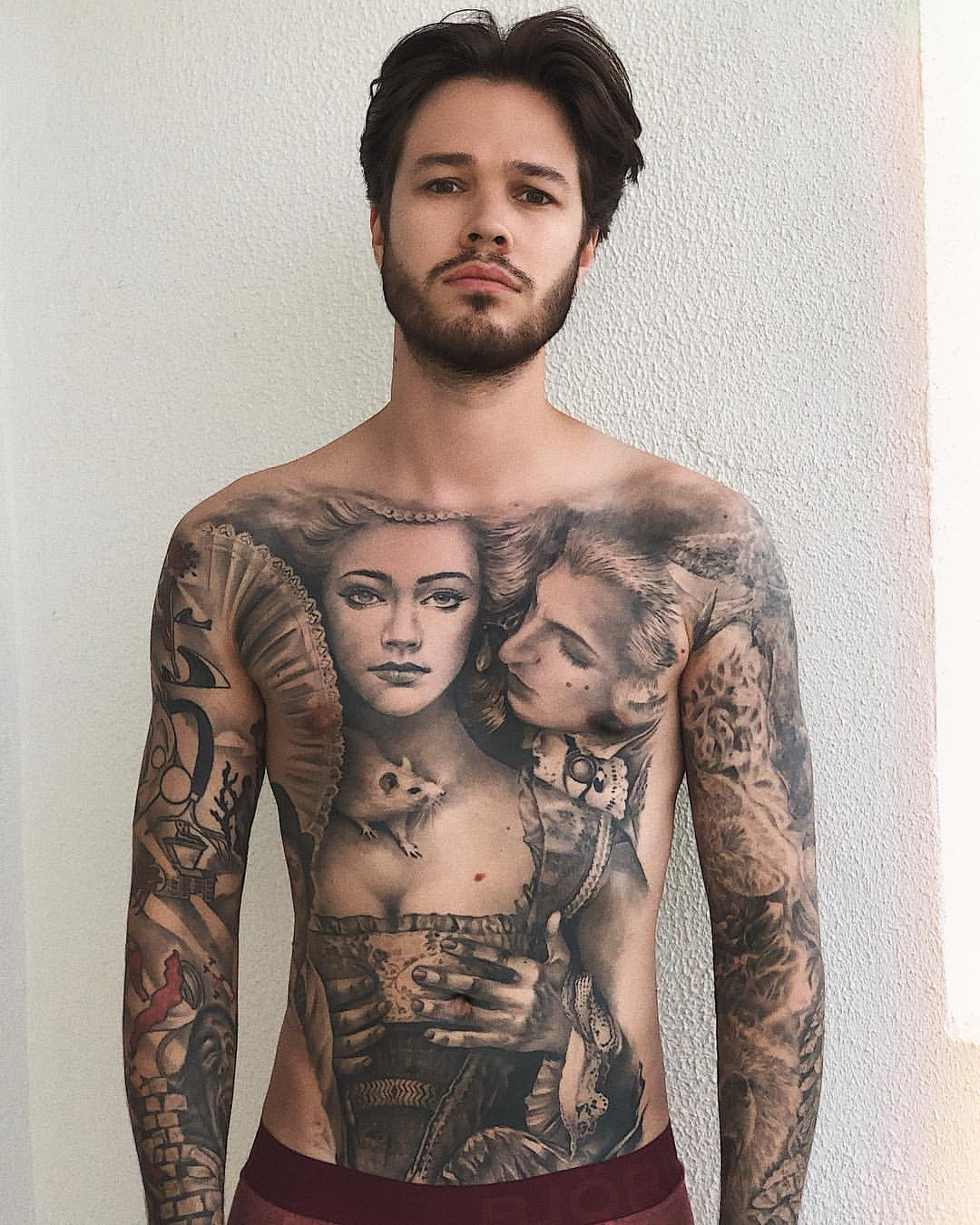 Toughest part for you about being a tattoo collector?
Saving the money! Good tattoos aren't cheap and cheap tattoos aren't good.
What are three things you wish you knew before you got your very first tattoo?
Number one: see previous question.
Number two: that world class artists you see on Instagram are also people, and if you're willing to travel and save the money you can definitely get tattooed by them.
I realized this the first time Carlos Torres emailed me back, I was like holy shit. It was like the queen of England or Justin Beiber had messaged me. Carlos Torres was literally a superstar to me, and I had this fantasy that he got a million emails a day and would never answer a peasant like me. Then he did and everything changed for me.
I used to think you had to go to your local "guy" for tattoos, and that's simply not the case anymore. Don't rush, just wait it out. Save money and get in line if you want the best.
Number 3: I used to think that as long as the tattoo "mattered to me and had meaning" I could get away with shit work. Well, I've since then learned that as long as it's quality work that you're proud to wear.
Nowadays I only get free reign work from artists I trust, for the sake of the art only.
Quality is everything that matters, in my humble opinion.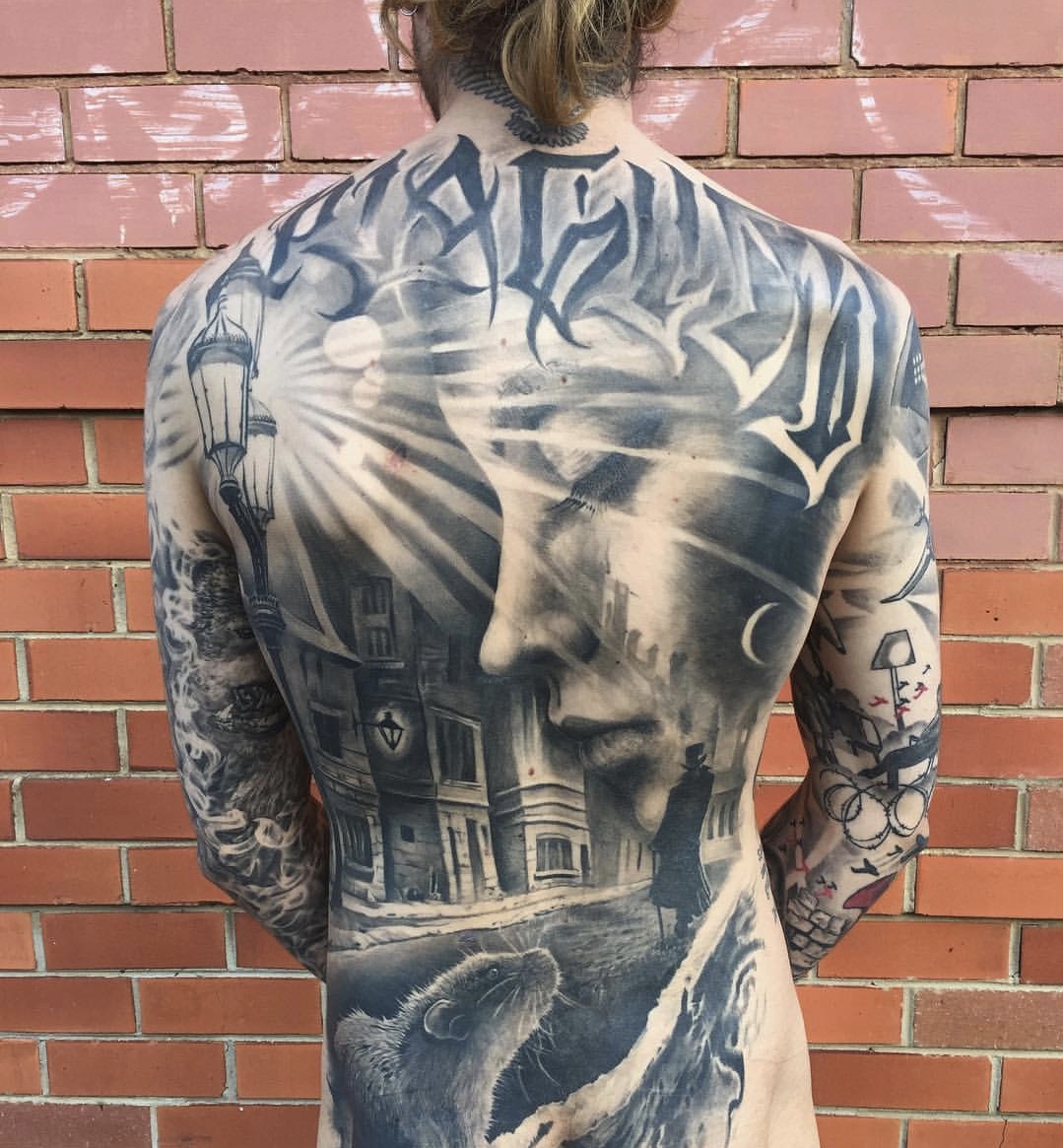 Do you have an overall goal for your collection?
Hmm tough question. I haven't really thought about it to be honest. I want to be happy with myself and my body, that's my only goal. Tattoos or no tattoos (but quality work obviously helps because you instantly looks 10x cooler, sort of joking but not really).
Inspirations in the industry?
I get inspired by watching my favourite artists evolve, and discovering new amazing artists. Instagram is an amazing source for discovering new talent and for showing support to your favorite artists. It literally blows my mind sometimes how far tattooing has come and the quality of the designs that go on people's bodies these days. That inspires me the most.
What are the biggest (positive or negative) changes you've noticed in the tattoo culture and industry since you first remember entering it up until now?
The biggest change I've seen is that it's grown bigger in only a few years, and it has become more available and accepted than when I started. Tattoo conventions around the world get bigger and bigger and you see more and more TV-shows about tattoos and the tattoo industry. More and more people get tattooed, and the quality of work reaches new heights every day.
I guess those are all good things, but it sure has it's dark sides as well. When something gets popular there are always people finding ways to spread hate. We've all seen it. You never see these people in real life if you ever go to a tattoo convention, but you experience it online every day. However, I like to think that the positive outweighs the negative.
Rather get tattooed at a shop or a convention?
For small(er) tattoos by one or two artist, I don't mind conventions. For big collabs where you feel like you want to die, then definitely a safe and silent environment like a shop. But I have to say I love tattoo conventions, you meet so many incredible people with similar interests. Tattoo conventions always remind me what an amazing industry this really is. I've met some of the nicest people I've ever met at tattoo conventions.
Be honest, how many minutes (or hours?!) on average per day do you spend looking at your collection?
My own collection; probably only 5 minutes in the morning after my shower. Other people's collection popping up in my instagram feed; way too long for me too admit haha.
Thanks for the interview Cornelius! It's fun hearing from other passionate collectors and hearing about their tattoo journeys.