Thomas O'Dowd is a tattoo collector living in Seattle, Washington who has an extensive collection of work from top names in the realism industry. His collection includes pieces from Josh Duffy, Tony Mancia, Fernie Andrade, Arlo DiCristina, Dillon Forte, and more. He definitely has one of my favorite collections currently. His work is cohesively laid out and clearly and very well thought out. I got the chance to pick his brain a little in this interview below.
When did you start collecting? How did the journey begin?
I started tattoo collecting on my 31st birthday (5 years ago). I flew out from Seattle for a full arm sleeve with Dillon Forte in Oakland, CA. It was very exciting because my dad flew in from Chicago to celebrate my birthday & support me get tattooed. After that experience, I knew instantly that I wanted to be a tattoo collector & work towards a full bodysuit.
The journey began in a very unique way. At 29 I started attending music festivals along the West Coast. Electronic music has been a part of my life for nearly 20 years. I would explain these festivals (i.e. Lightning in a Bottle, Burning Man, etc) as transformative & spirital experiences. I highly encourage people to attend a festival & see what the magic is all about.
At these festivals, the level of art, human connections, & love has been & continues to be something that captivates my heart & mind. From these experiences, I began exploring sacred geometry & visual/psychedelic art. I was traveling a lot & knew I couldn't just buy artwork, with no place to display the pieces. I had an epiphany & decided to start collecting bodyart as a means to express my inner feelings & connection to life & the Universe.
Be 100% transparent, do you ever ask yourself the question "If I could start over, would I?"
If I had the opportunity to start over again, I wouldn't change much. I tattooed my fingers a few years ago (impulsively at a tattoo convention) & regret the decision. The artwork is not quality. I advise a collector to make certain that hand, finger, and neck tattoos are of the best quality possible. This is what people notice first, & what you are judged by. To this day, I will keep my hands from being too overly noticed when I meet someone professionally. Meanwhile, I am laser removing the knuckle tattoos….. and yes, ouch.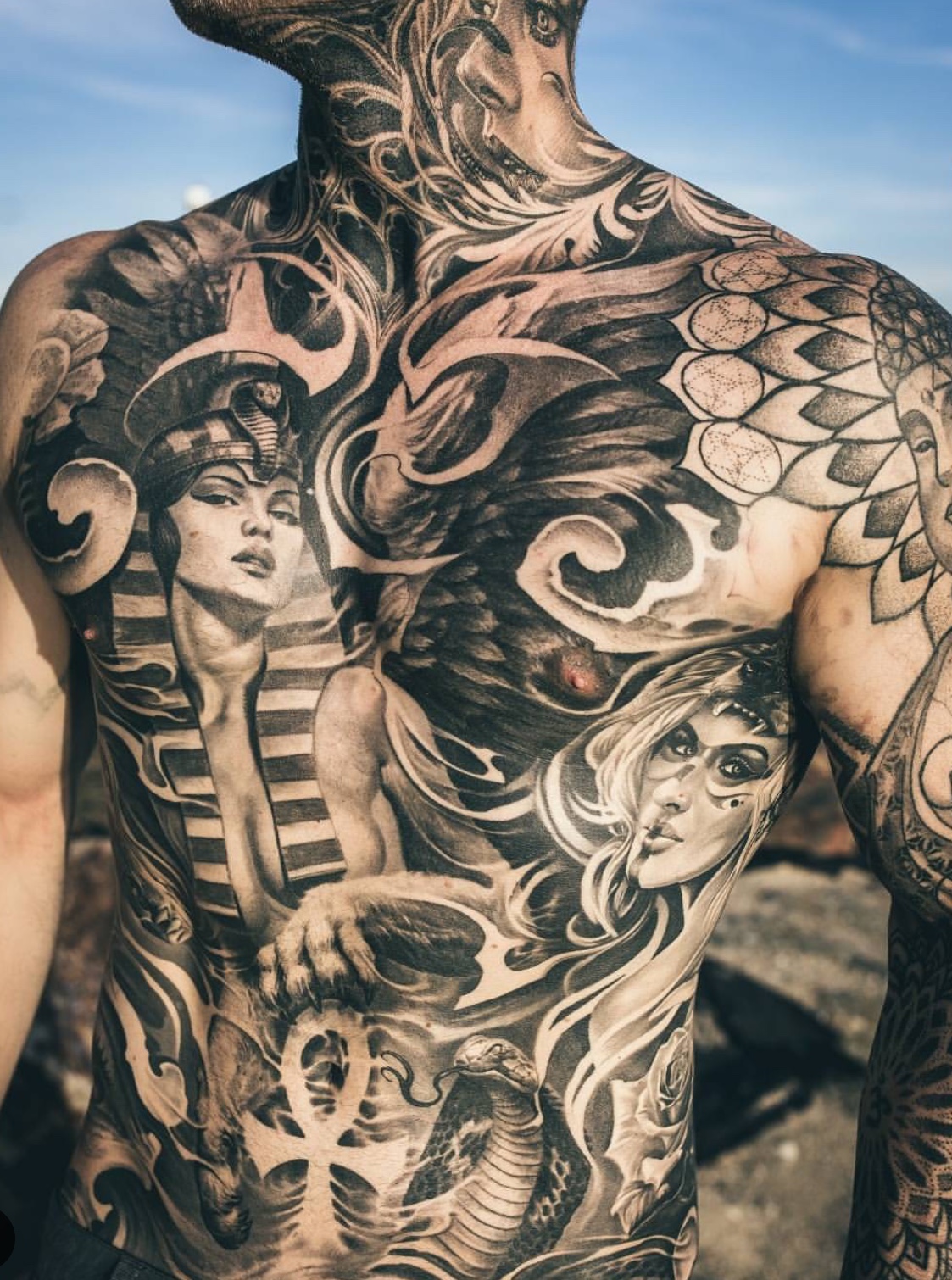 Toughest part of being a tattoo collector? Best part?
The toughest part of being a tattoo collector is working to break the stigma & stereotypes that still exist in our society. People accept those of different race, sexual orientation, gender, etc. more than ever in our world today. Although we have a long way to go, a tattooed person is very often openly discriminated upon.
We are not protected by any Equal Opportunity laws. As a result, I have been told directly by perspective employers that my tattoos are the reason they will not hire me.
I strive to articulate that tattooed people often carry great character traits which seem to go unnoticed. We are dedicated, willing to make decisions & stand behind these, we won't quit when things become challenging or painful, & we are genuine in how we present ourselves to others. We are who we are, and express this openly. I admire this within the tattoo community.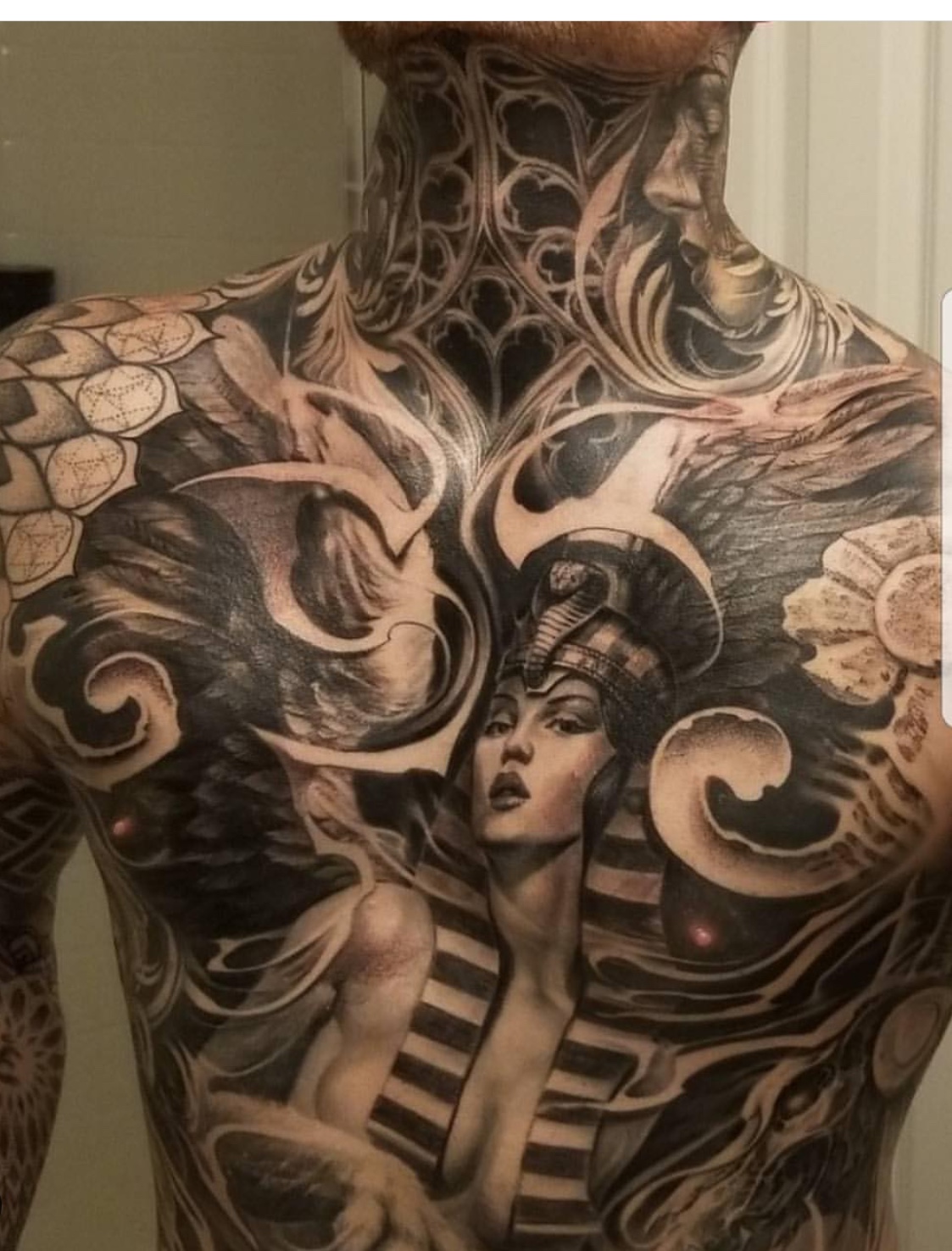 Funniest experience with an artist so far? Most frustrating? Name drop or not, your choice.
I don't have a specific funny moment. However, when I visit Josh Duffy & the Black Castle crew in Arizona; it feels like a fraternity of good friends. The jokes and good times seem to last all day. It is a wonderful studio. Josh has a great sense of humor and I find the laughs help with the marathon 10-plus hour session we have accomplished.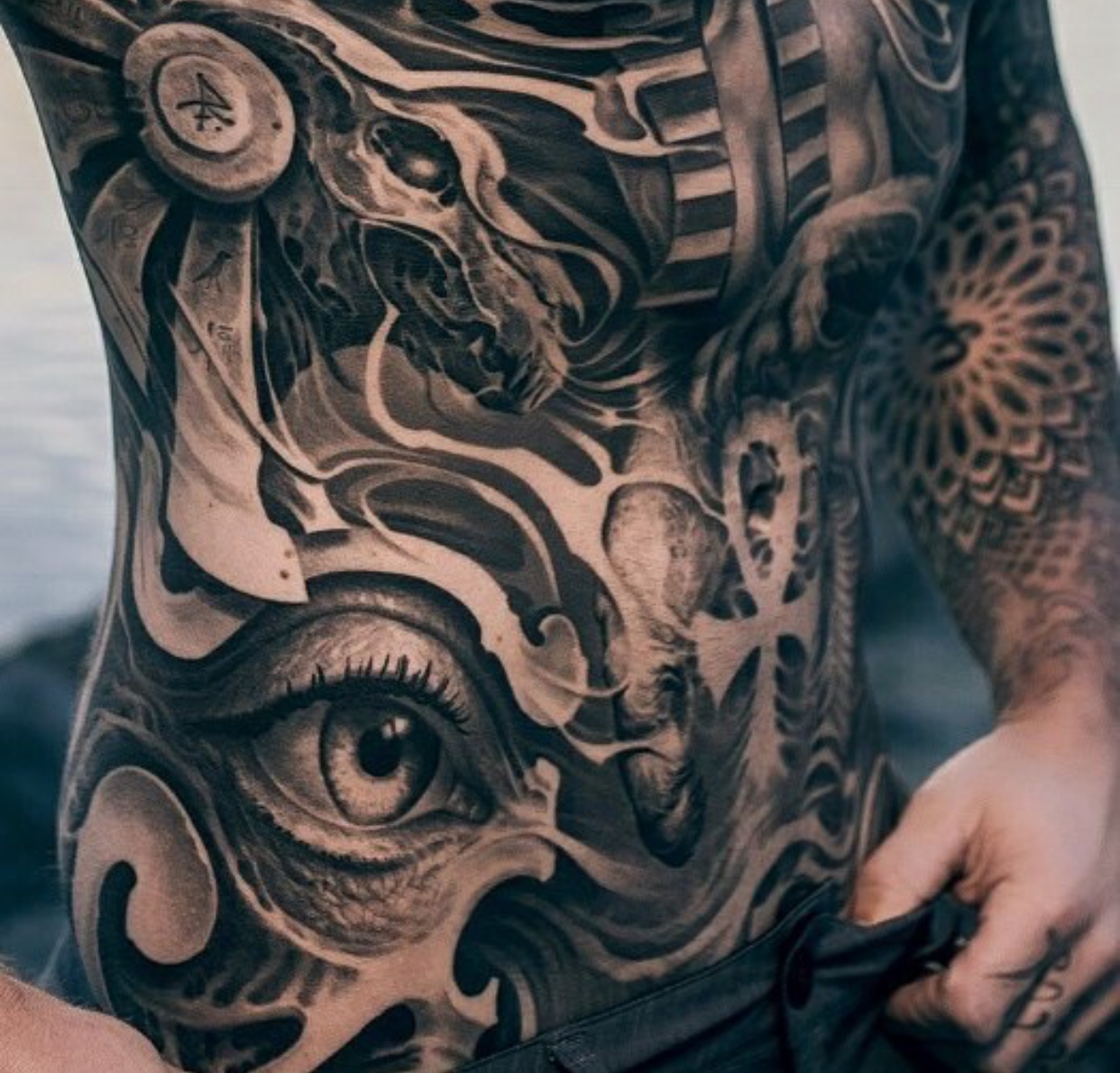 The most frustrating situation is when I have emailed an artist & never receive a reply. Collectors spend big money & often sacrifice to collect the art they desire, professionalism is something I expect from artists earning $2,000-$3,000 a day.
By and large, I have been blessed to have worked with some of the most humble and down-to-earth tattooers on the planet.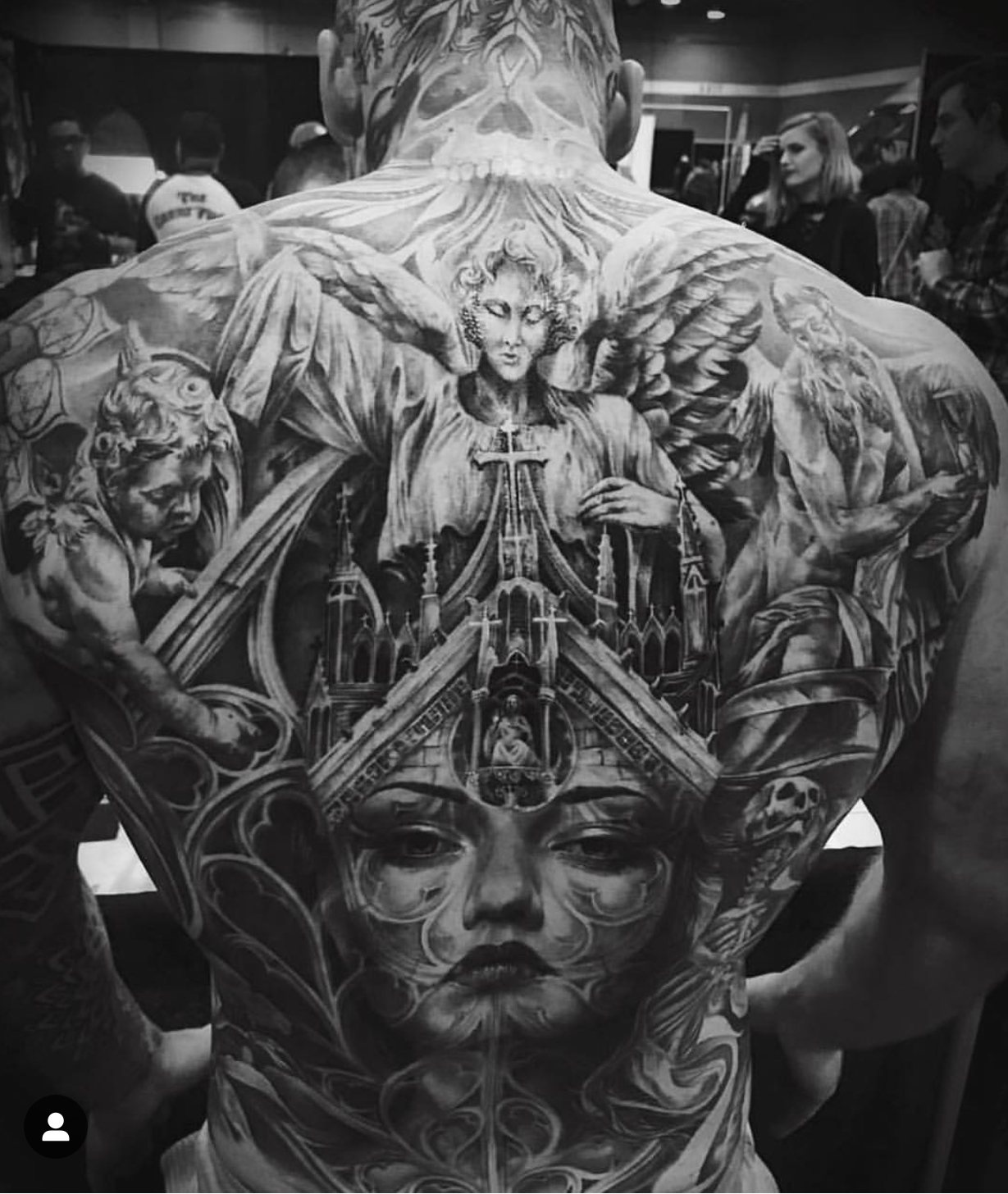 Funniest question you have ever got asked about you work or funniest comment you've received?
I can't think of a specific funny question. However, hearing the question of "Did that hurt?" several hundred times over the years makes me laugh. And I like to have fun sometimes in how I reply. E.g. "It was aliens, bro…I don't remember it!" or "I was such a young child when I was tattooed, that my memory is kind of foggy on this.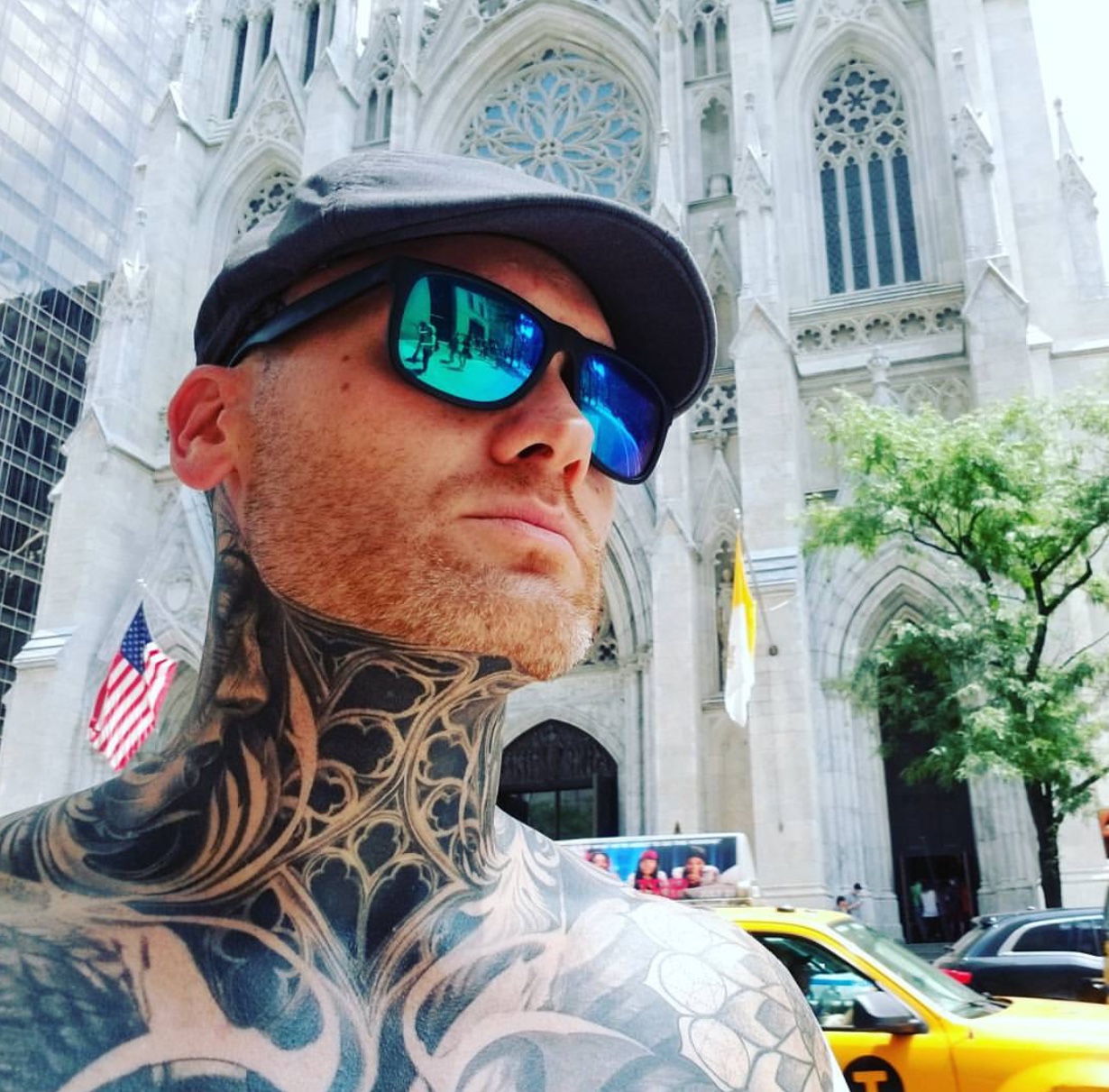 Stupidest question you've ever got?
The stupidest question is a toss up between "Why did you do that? I always answer the same way, "Because I wanted to- period." Or the question "How much did that cost?" – I have fun with this one too. And often reply, "Why would you like to buy them from me?" Lol.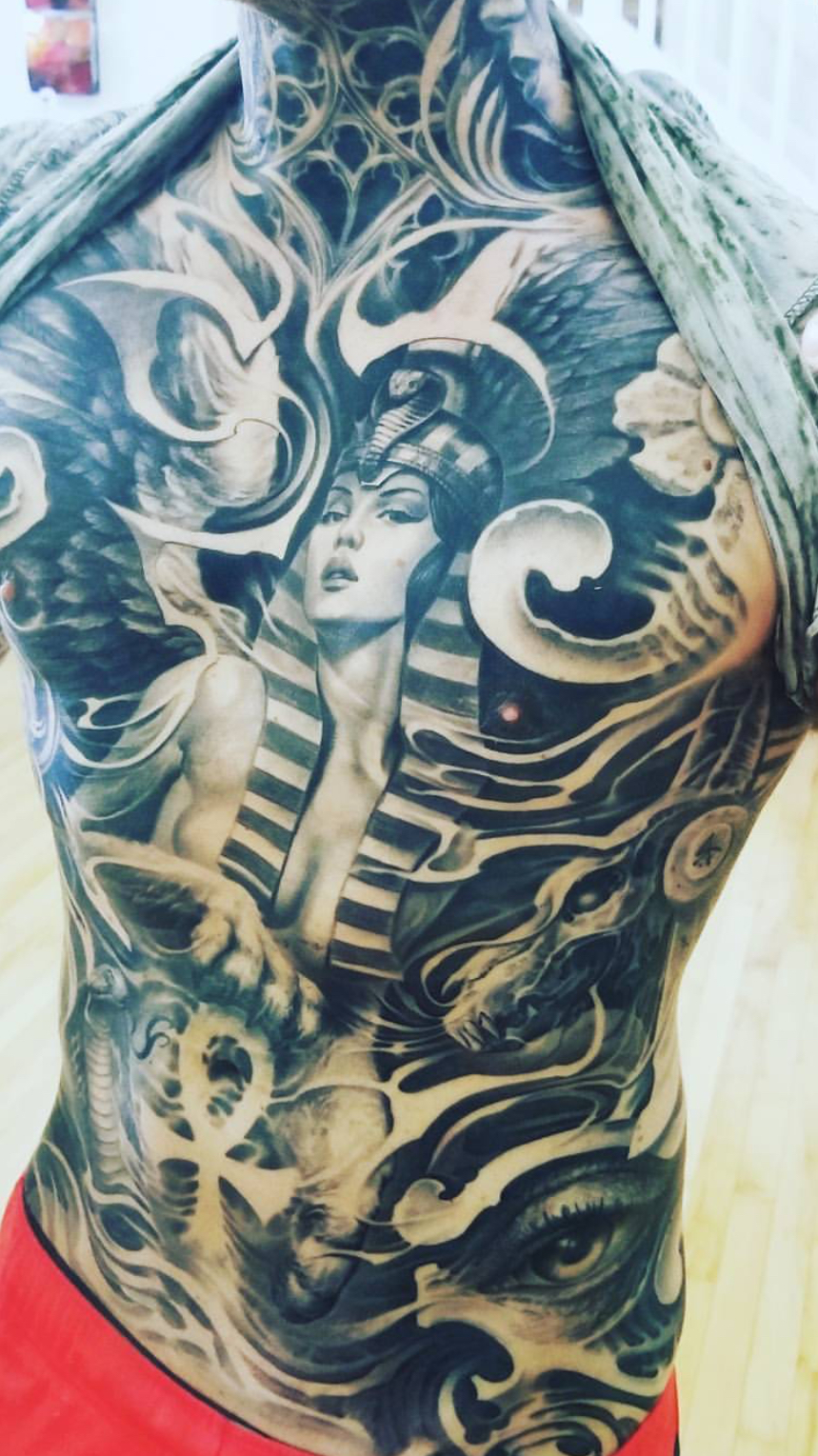 Tattoo plans for 2019?
Tattoo plans for 2019 are not very ambitious. I'd like to tattoo my right foot and ankle with Josh Duffy. I see a lot of young men/women in their early 20's that are covering themselves & nearly suited in a few years. I want to enjoy being tattooed for another 10-15 years. Ideas will evolve, new artists will emerge, technology will improve, & my life will keep changing. It's a journey, not a race for me.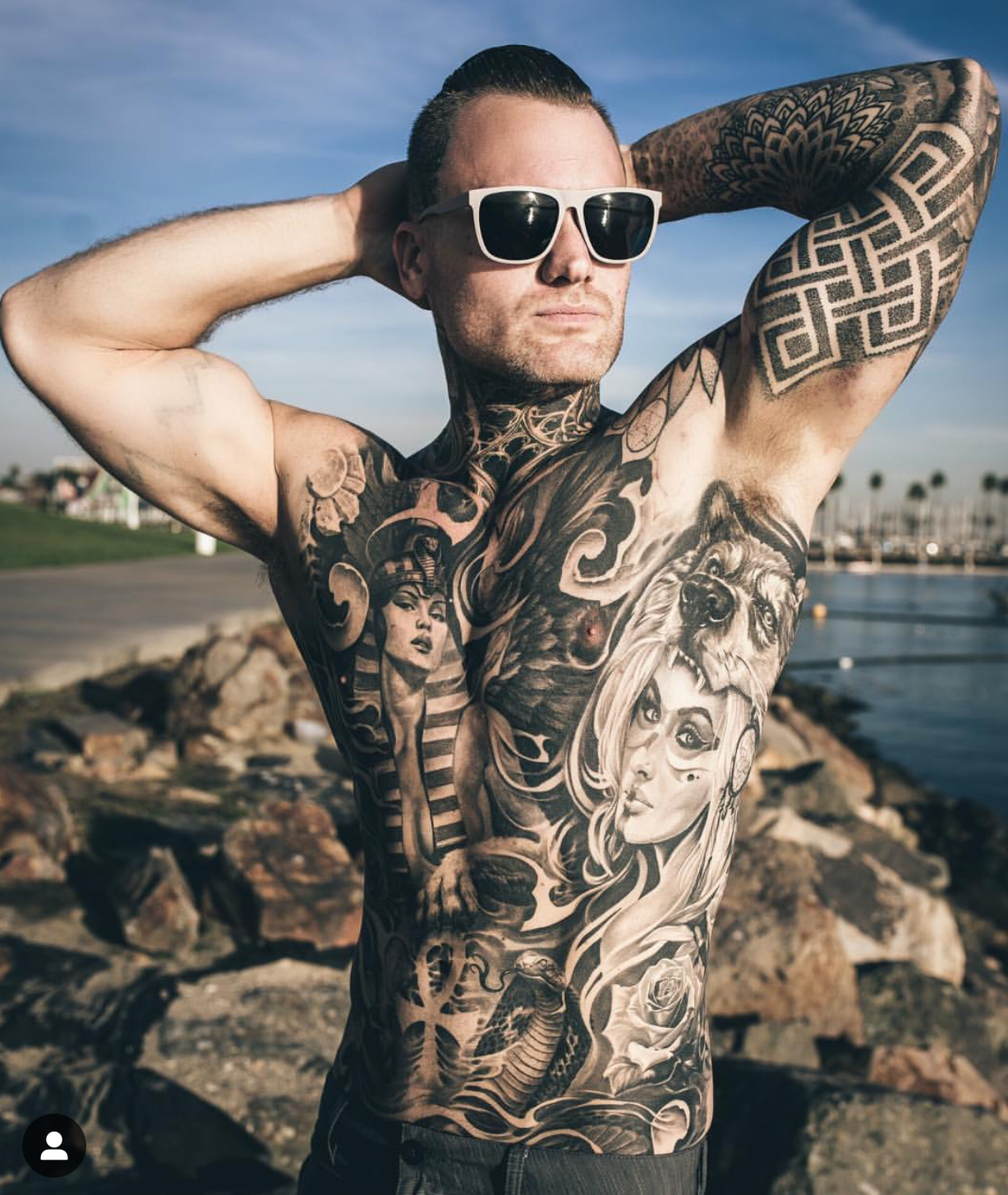 How do you decide the direction you're going with your collection?
The direction of my collection seems to coincide between what visually appeals to me, where I am in life, & how I can express the idea. I like to seek out the deeper meanings in life & will often travel to find sources of inspiration that may aide as a catylist for future tattoo ideas/plans. I keep a lot of ideas in my back pocket.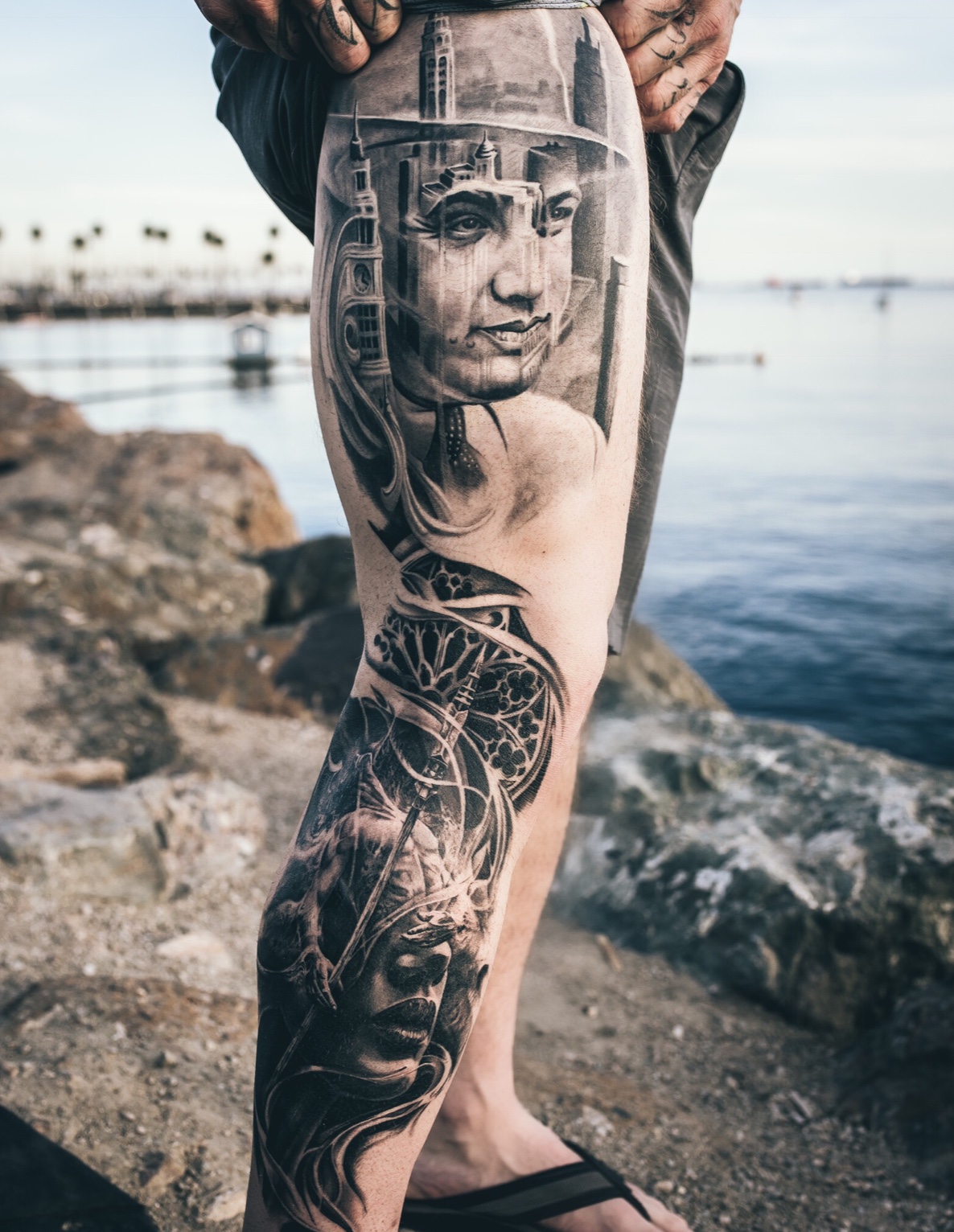 What do the words "Lead The Followers" mean to you?
To me, "Lead the Followers" means setting a good example that may not follow the status quo. Being a trendsetter & providing a source of positively to everyone around you.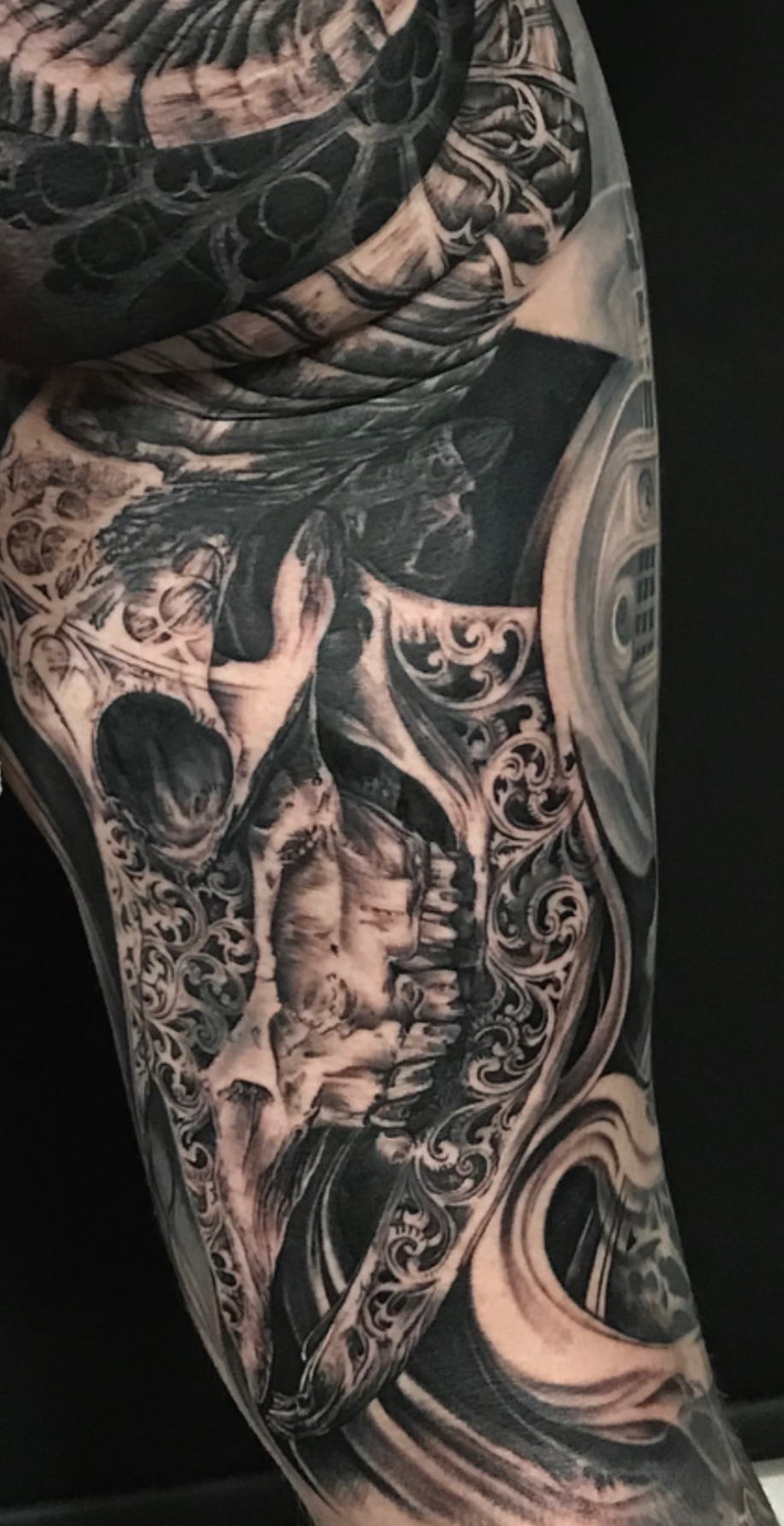 What artists are you saving space for right now?
I'm saving space for Josh Duffy, Carlos Torres, Eliot Kohek, Bolo, and Rember (at the moment).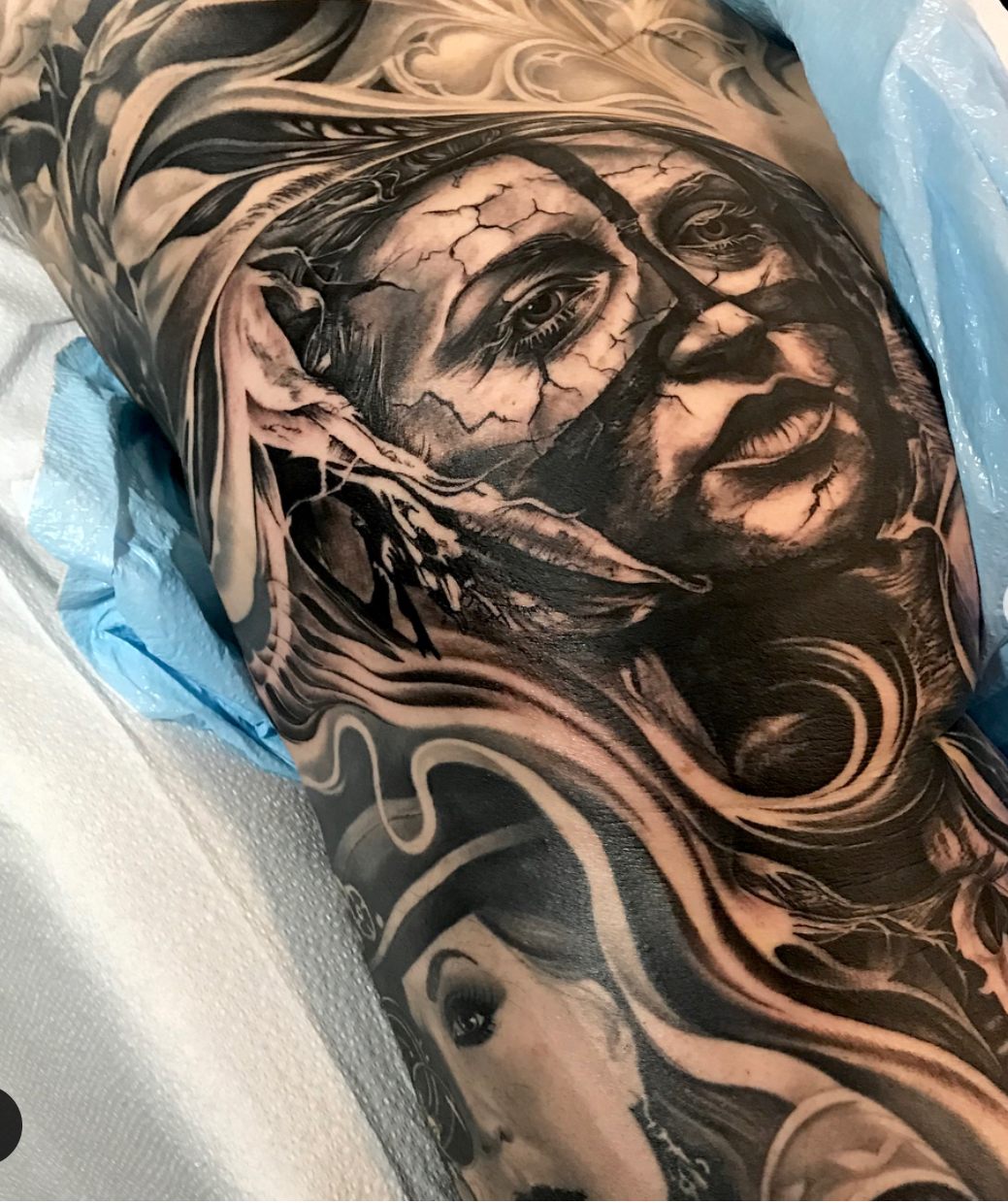 Dream collaboration?
A dream collaboration would be either Rember & Duffy or Rember & Carlos Torres
Inspirations in the tattoo collecting world?
There is a plethora of inspiration in places outside the tattoo world. I check out Instagram to look for new talent among tattooers. I always keep my eyes open. Visiting cathedrals, monuments, art galleries, museums, & music festivals have been my best sources of inspiration, to-date.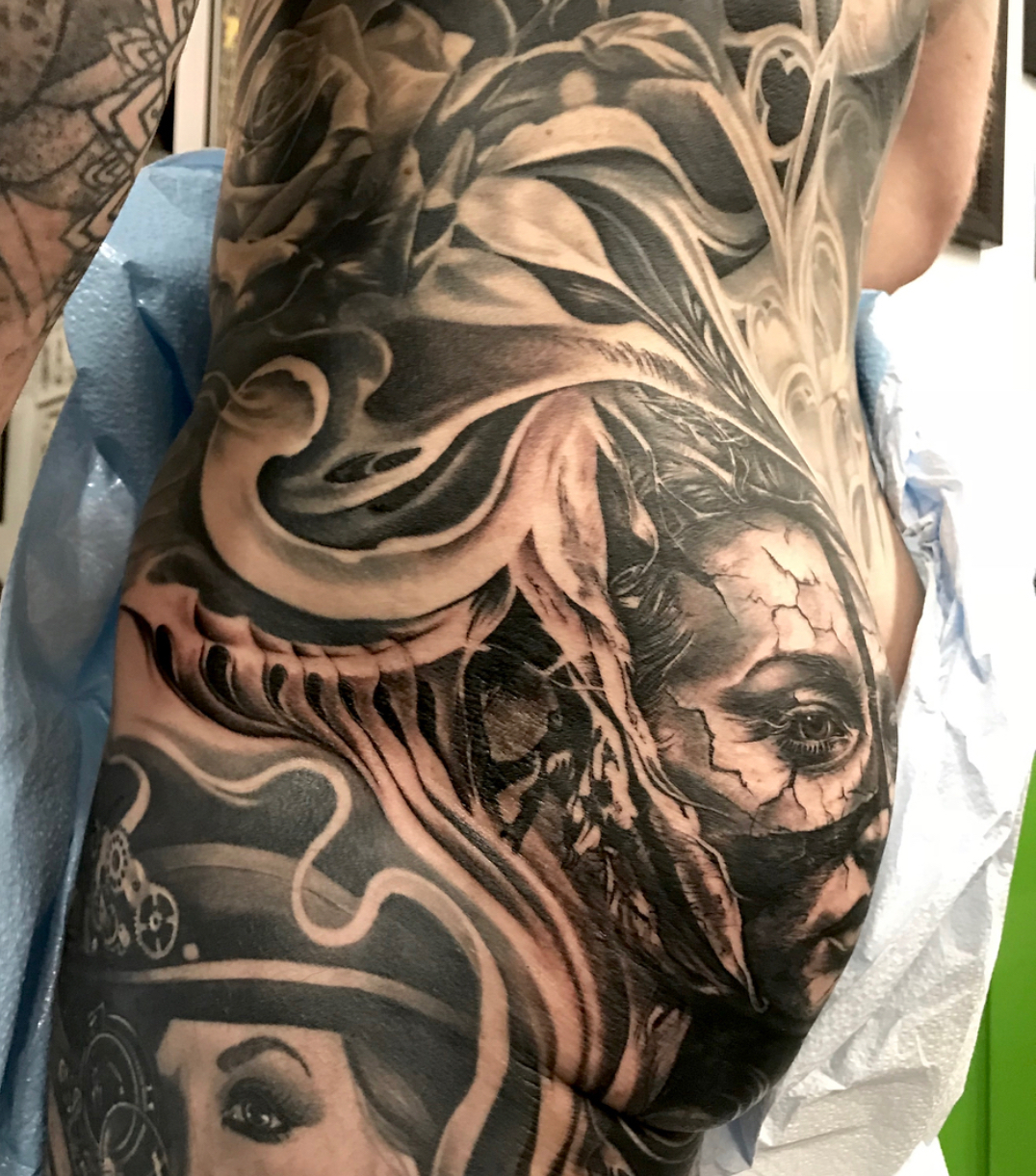 Top 3 pieces of advice for aspiring tattoo collectors?
A. Take your time. Both covering your body & waiting for the artist you desire. It's worth it. Your interests and outlook on life will change, save room to express this in your bodyart collection.

B. It's great to have an idea or theme for your tattoos plans. However, trust your artist & give artistic freedom when possible, without sacrificing the integrity of your vision.

C. Don't worry what others think or say. It's your body, your choice, and your self-expression. Be proud and stay humble.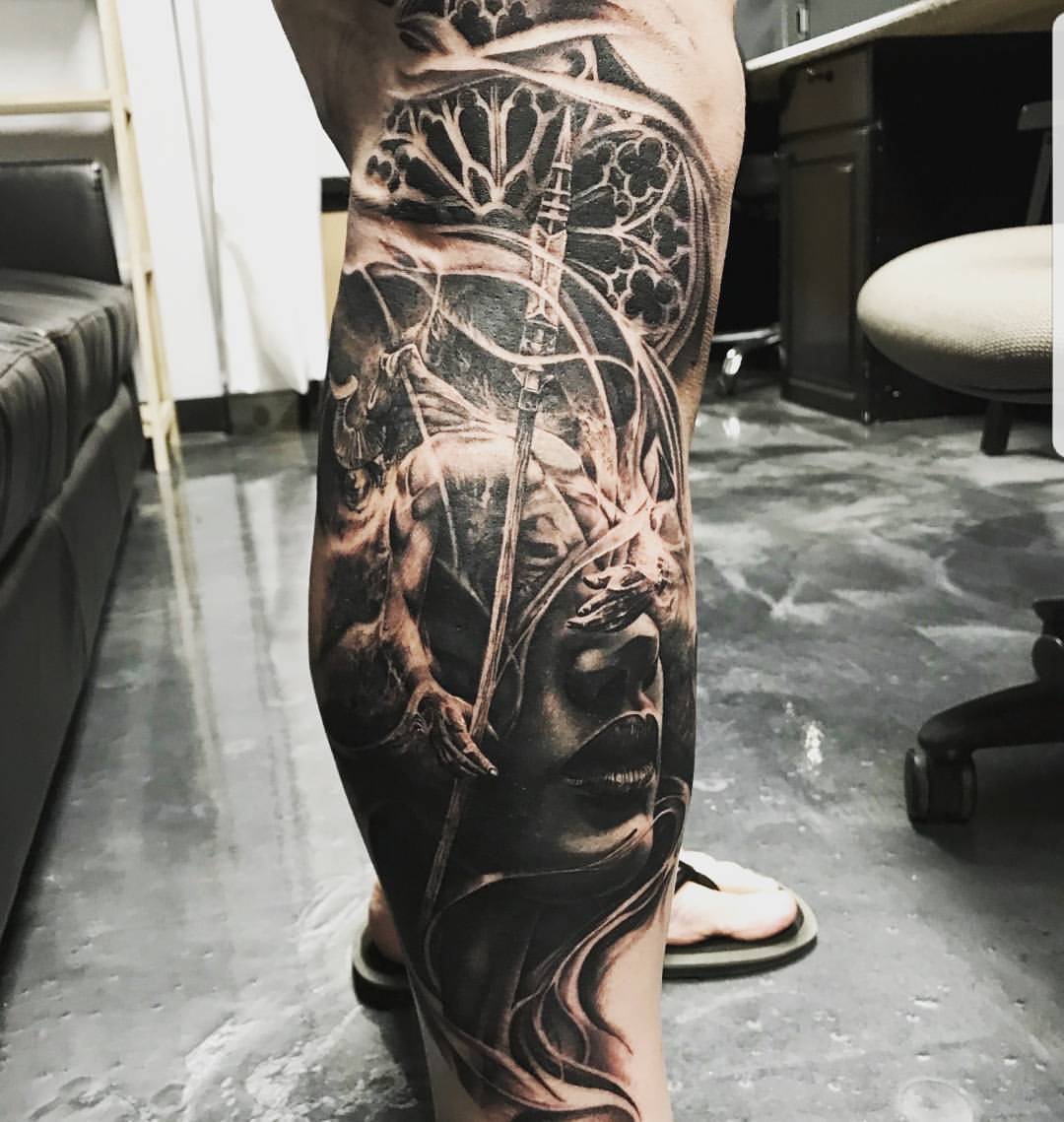 Thanks for your time bro! Your collection is inspiring for sure! Give him a follow @drivenbytheink